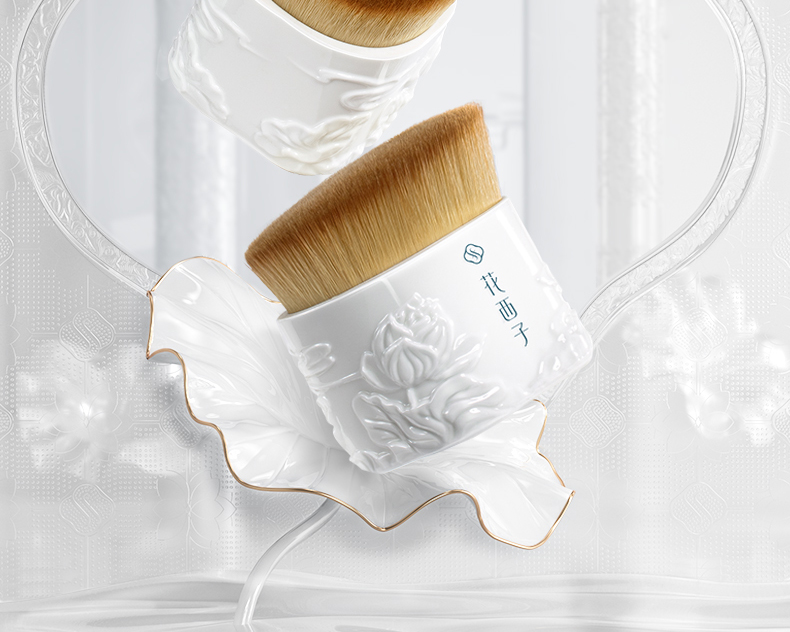 TOUCH-UPS ON THE MOVE
Florasis remains at the forefront of beauty innovation thanks to its luxurious yet tech-savvy, artistic and traditional approach. Crafted from quality, super-soft fibers, the brush was designed as a tribute to Chinese oriental beauty and heritage. It is inspired by the white porcelain of the Ding Kiln in China. Ding Ware was among the top five porcelain wares in the Song Dynasty, and was the only one of white color among them.
Thanks to the delicacy and solid texture of the Chinese white porcelain, the Florasis decides to craft the brush' s handle using the traditional engraving porcelain technique. The result? A delicately engraved handle showcasing a lotus leaf and lotus pond relief patterns dipped in a white and smooth glazing. The weighted metal handle and the Xuan window at the bottom as a logo is ergonomically designed allowing comfortable, controlled application and can be stored neatly vertically without taking much space. Now you own a magical brush to pat, blend and swipe for a flawless finish.
How to use the Porcelain High Coverage Foundation Brush
Second
Use the brush directly onto face using circular motion to follow the texture of the skin and disperse the foundation evenly onto the whole face in order to cover quickly large areas.
Third
For areas that need more precision such as around the nose, and mouth, use the pointed tip of the brush.
Other makeup tools recommend