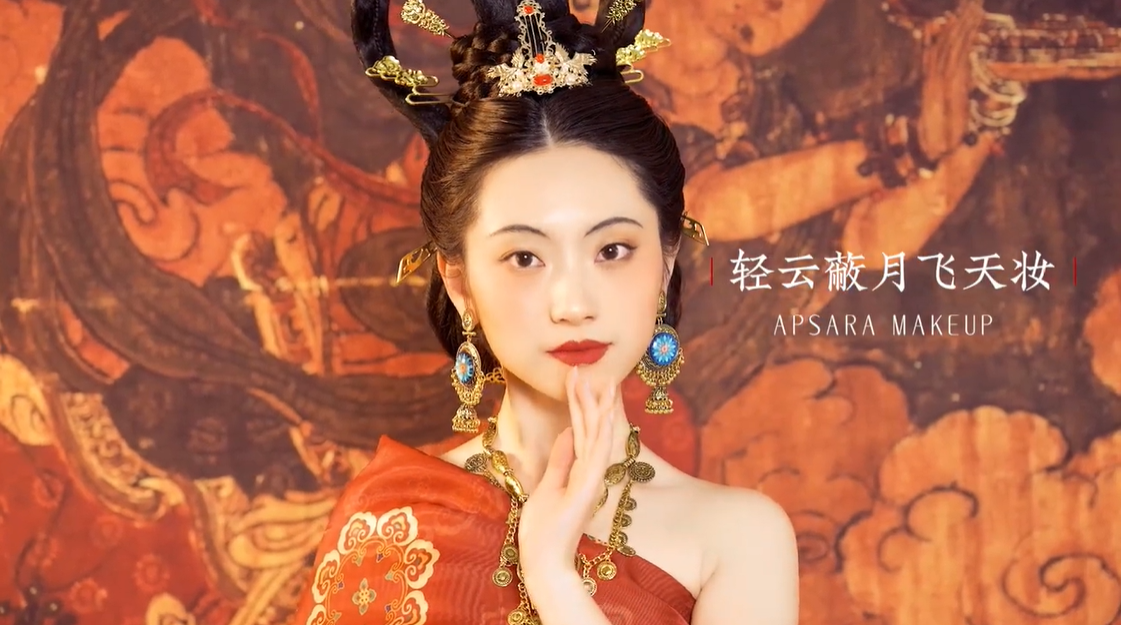 The Apsara Goddess in You
Unleash the inner beauty goddess in you as you inlduge in a fantasy-approved make-up look. 
For a quick beauty history throwback, the apsaras are celestial dancers first mentioned in "The Monasteries of Luoyang" who inspired great artists in the Tang dynasty.
Inspired by the Apsara, this make up look merges together an enchanting palette and a petal-soft touch to exude instant radiance. 
Base Makeup
Apply a generous amount of foundation directly onto your face or using a foundation sponge on your hand. Dip a brush into the powder and sweep the entire face to set the makeup and create an even complexion.
Eyebrow Makeup
As this look focuses the attention up at eye level, make sure your brows are perfectly defined.
Step 1
Dip the Brush into the matte copper shadow 07 in our Engraving Phoenix Makeup Palette. Take the shade 06 into the back 1/2 of the upper eyelid, and fill-in the lower lid with a shimmer shine using the remaining of the powder.
Step 2
Blend a mixture of shades 01 and 03 at the eyelash extension to add depth to the upper eye. Continue while smudging to the center of the upper eyelid. Draw directly under the lash line using shade 01. Apply shade 02 from the center to the middle of the eye.
Step 3
Draw a natural eyeliner along the base of the lashes. Curl the lashes and brush until they are well defined.
Cheek Makeup
Dip the blush in and slowly swirl the blush from the temples to under the eyes. Apply lightly Dew Blush above the eyelids and the tip of the nose.
Trim Makeup
Contour the jawline, under the cheekbones and on the sides of the nose.
Lip Makeup
Use Rouge Porcelain Lipstick to create the M-shape of the upper lips then swipe the rouge in a sleek movement across your whole pout.
The Apsaras were often illustrated and seen with high hair buns and soft bodies in graceful postures. Adorned in bright ribbons and brocades with unique and vibrant patterns, Apsaras embody the beauty of traditional Chinese identity.
You are all set for heart-stopping moments that bring back a hint of nostalgia to the mind and sets our souls on fire.

Behind the Product
This Blog is introduce how to use Makeup Remover Wipes,  how to open Love Lock Lipstick and Setting Powder. If you don't know how to, please check out this article.
Read more