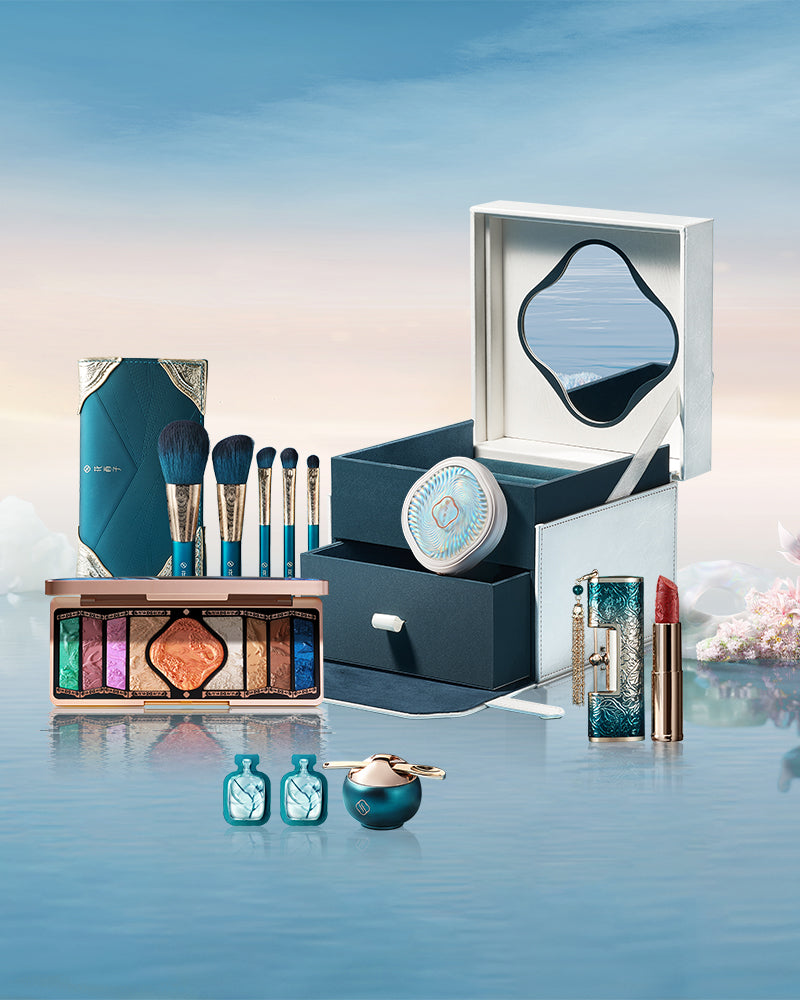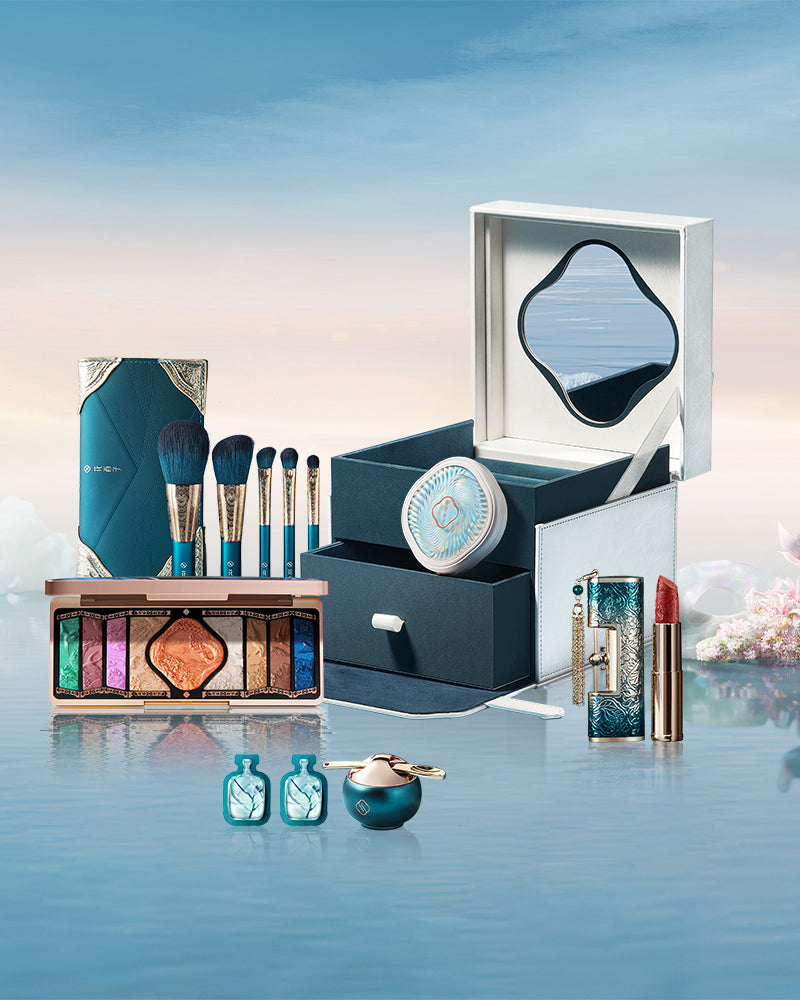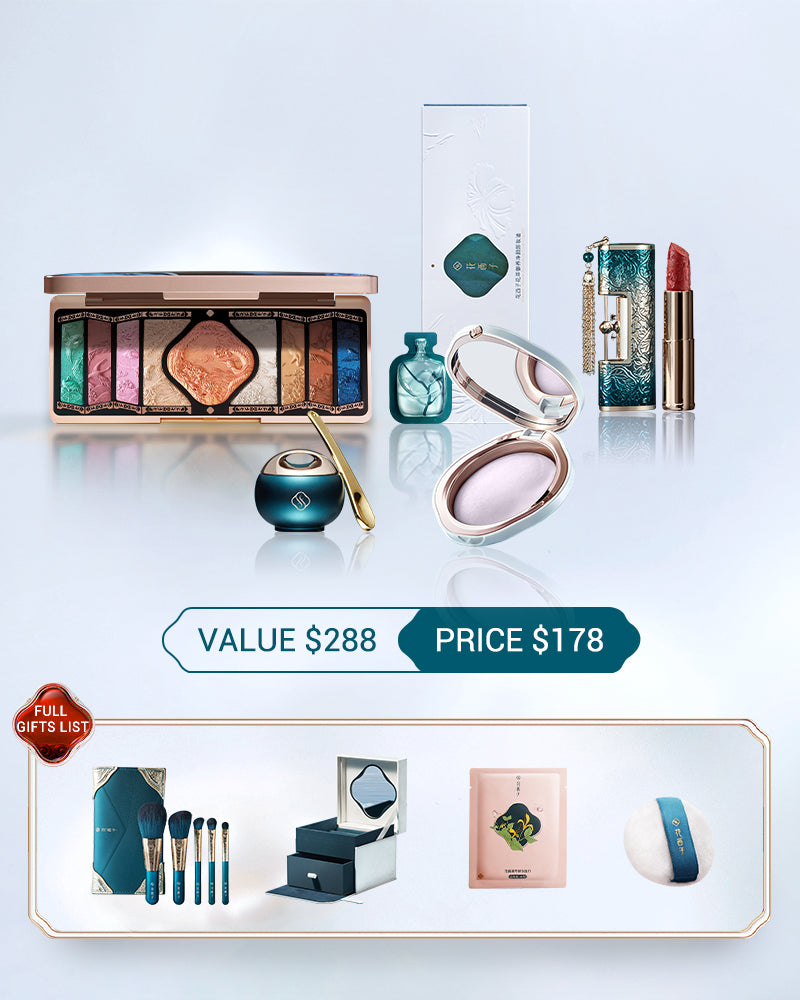 FLORASIS | HUAXIZI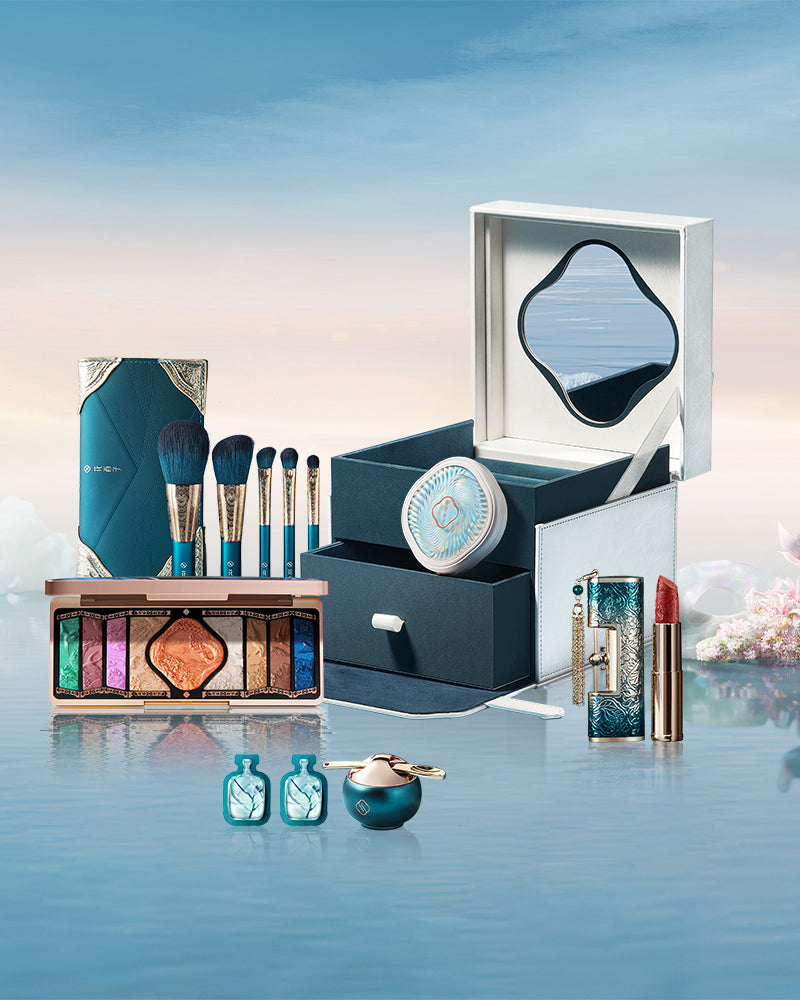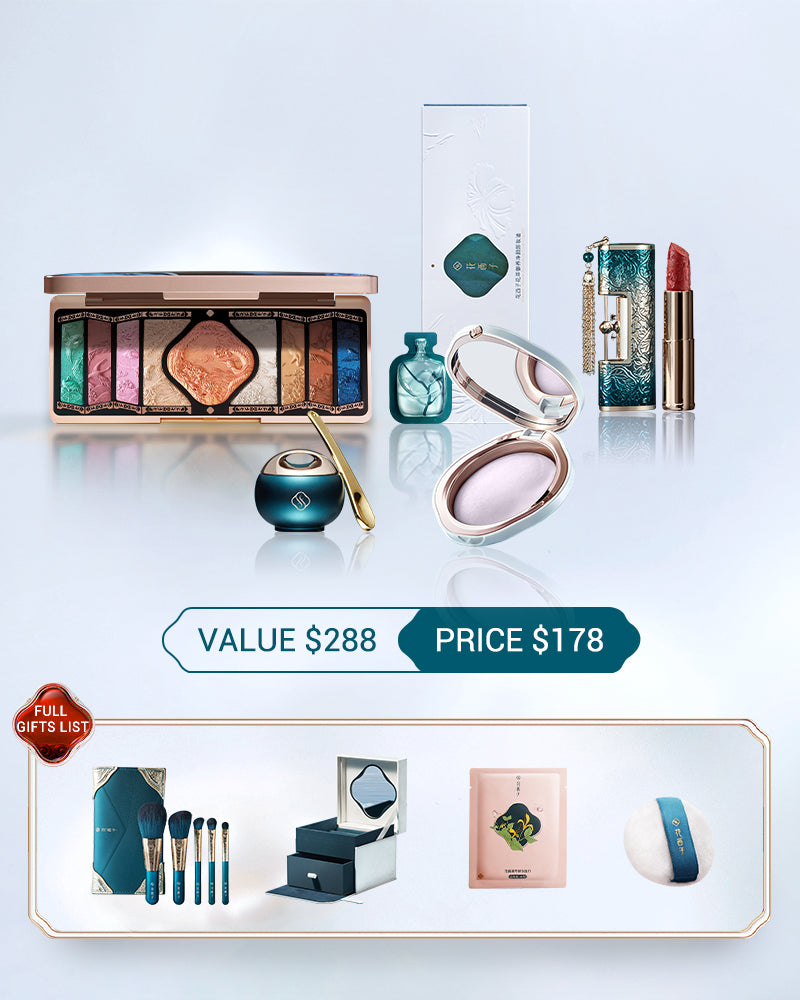 Soaring Romance Set
A GIFT OF SELFLESS LOVE, NOBILITY, AND BEAUTY
Sale price
$178.00 USD
Regular price
(/)
Candied Tomatoes: Elevates your everyday look, even by itself; Engraved with story of White Snake and Xu Xian
Translucent matte for all skin tones, creating a misty matte and airy makeup
Exclusive Bundle Gifts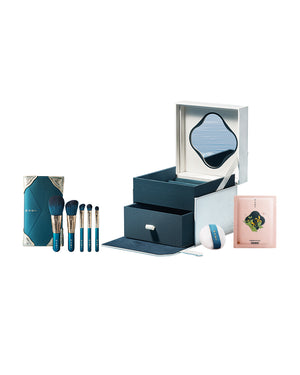 Soaring Romance Set Gifts
$101.00 USD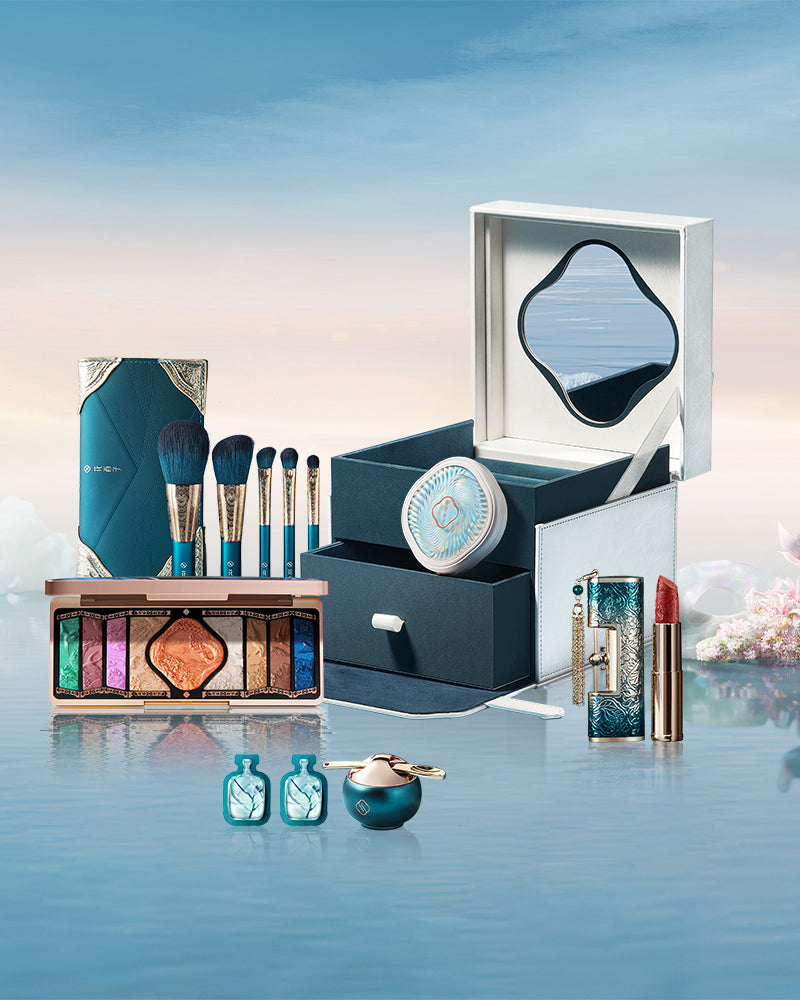 Soaring Romance Set
Sale price
$178.00 USD
Regular price
Choose options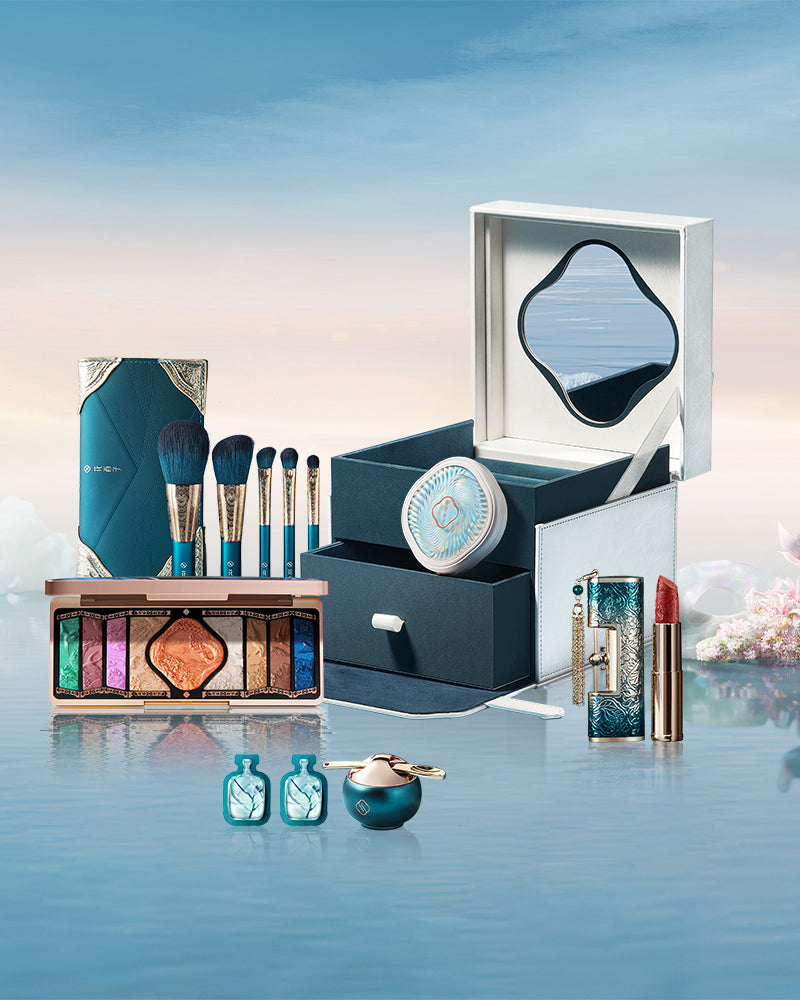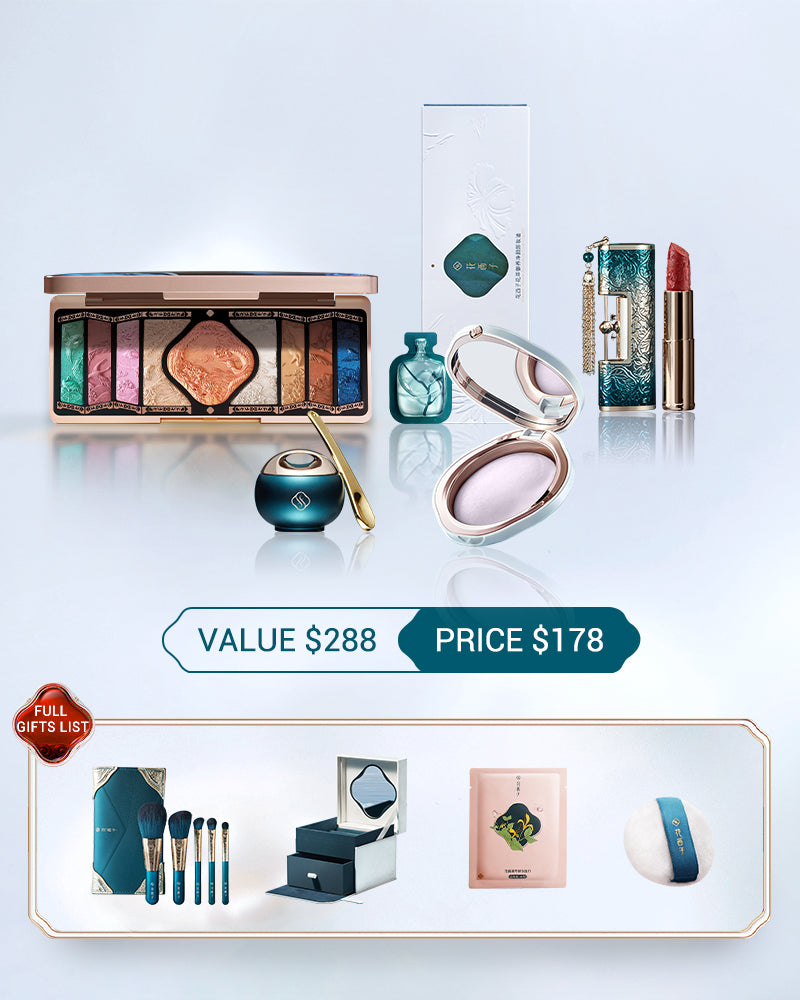 A GIFT OF SELFLESS LOVE, NOBILITY, AND BEAUTY
A soaring spectacle of color unites with a 5,000 year old token of affection. Discover Soaring Sunlight, the latest addition to the Phoenix family, and imbue every kiss with love with our iconic engraved Love Lock lipstick. A curated set rich in nourishment and color, you'll soar with splendor with this kaleidoscopic gift.
Set Includes:
Floral Engraving Phoenix Makeup Palette
Blooming Rouge Love Lock Lipstick
Flawless Jade Breathable Pressed Powder
Botanical Hydra-Soothe Balancing Cleansing Oil Travel Size (3ml*14)
Ginseng Care Lip Balm

Free Gifts:
Eastern Jade Dressing Case
Soft Blooming 5-Piece Brush Set (Impression of Dai)
Floral Dew Care Makeup Remover Wipes*3pcs
Soft Blooming Velour Powder Puff
NINE ELEGANT SHADES INSPIRED BY THE KING OF THE BIRDS
A palette that celebrates the beauty and quiet wisdom of patient resilience, the Floral Engraving Phoenix Makeup Palette honors the simple yet powerful myth of All Birds Pay Homage to the Phoenix (百鸟朝凤, bǎi niǎo cháo fèng).

Infused with extracts of skin-brightening peony, antioxidant-rich pot marigold, and smoothing pearl powder, this palette nourishes as it beautifies. Talc-free with minimal fallout, the microfine particles arranged in a unique 3D lattice structure glide over skin to form an ultra-smooth, buildable layer of comfortable pigment. Multiuse and buttery smooth, this palette includes shades that work perfectly as shadows, highlighters, and blush.
The Shades
Gold Brown Palette
Peacock (Dark cyan glitter)
Canary (Orange bronze satin)
Warbler (Matte medium beige)
Thrush (Rose gold satin)
Phoenix (Matte red with a hint of gold glitter)
Egret (Pinkish white shimmer)
Swan (Matte terracotta orange)
Finch (Maroon bronze satin)
Swallow (Matte dark brown)

Retro Brown Palette
Martin Plume (Matte brown with gold glitter)
Heron Plume (Matte warm umber)
Lark Plume (Matte peach brown with gold glitter)
Golden Weaver Plume (Warm champagne glitter)
Santal Phoenix Plume (Matte peach pink)
Reedling Plume (Matte light apricot)
Reed Warbler Plume (Matte dusty peach with a hint of gold glitter)
Cuckoo Plume (Peach bronze glitter)
Bush Warbler Plume (Matte warm brown)

Soaring Sunlight Palette
Luan Feather (Mint green glitter)
Nightingale (Matte mauve purple)
Whistling Thrush (Pinkish lilac glitter)
Egret (Champagne glitter)
Golden Phoenix (Orange gold pink satin)
Silver Heron (Mid-tone silver glitter)
Dusky Warbler (Matte tan)
Brown-headed gull (Matte dark brown)
Swinhoe's Pheasant (Royal blue satin)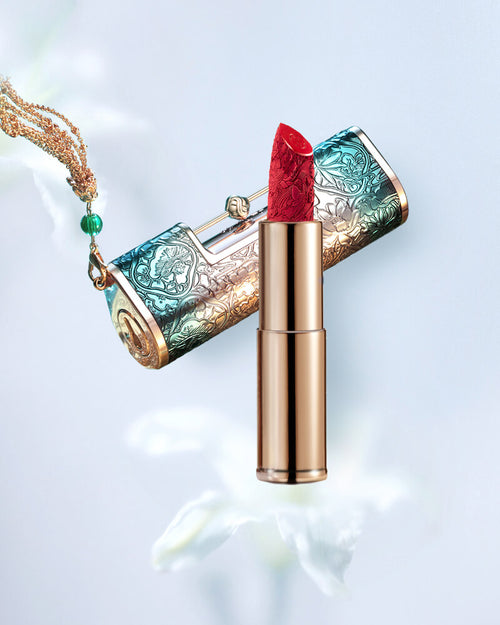 A ROMANTIC TOKEN BORN OF LOVE AND CRAFTSMANSHIP
A 5,000-Year-Old Inspiration
Once a protector of gold and other precious items, Love Locks evolved into symbols of peace, happiness, long life, love, and marriage. Created in collaboration with Master locksmith Xiang, the Love Lock unites a love of virtuosic artistry, ancient heritage, and nourishing beauty into a wearable romantic emblem.

Loving Legacies Engraved
With each turn of the bullet, you'll discover an ancient romance told in intricate engravings. Choose from four Chinese literary classics: Zhang Chang Paints Eyebrows, The Legend of the White Snake, Flowers Blooming on the Pathway, and The Cowherd and the Weaver Girl.

Silky Soft All Day
This exceptionally soft matte lipstick contains silk oil that gently evaporates, leaving a soft, non-sticky finish. Our hydrophobic microsphere and flake particle formula adheres smoothly to lips, minimizes lip lines, and resists transfer even when drinking.

Inspired by Ancient Beauty
Inspired by the ancient plant rouges of old, extracts of cotton rose, summer snowflake, and Madonna lily nourish and moisturize for a smooth, plump pout.

An Engraved Token of Affection
A meaningful token of affection that leaves a lasting imprint on the heart and mind. Make your gift even more memorable with a personalized message only you can write.

*Lipstick shades may vary due to a number of factors including but not limited to monitor resolution settings, lighting, skin tone, etc.
OUR 24H SHINE-FREE JADE POWDER REBORN IN PRESSED FORM
The Golden Ratio
Our golden particle ratio for the ultimate setting powder: one part oil-absorbing, nine parts translucent and light diffusing. Finely milled for a sensorial second-skin feel, blur pores and smooth your complexion with each application.

Non-Comedogenic and Skin Loving
With extracts of moisturizing white waterlily and raspberry and blackcurrant leaves for sebum control, this talc-free powder stays gentle on sensitive skin and supports skin health over time.

Silky Smooth and Jade Fine
Infused with breathable silk protein powder and shine-controlling jade nephrite powder, each pan is baked at a low temperature for 24 hours. When applied, it glides over skin with minimal fallout for an almost undetectable soft matte finish.

Sweat and Waterproof
A specialized X-COAT technology process coats each particle for improved staying power, moisture retention, and transfer resistance. A high-performance powder for every season, your look stays locked in rain or shine.

Versatile Voile & Brightening Lavender
Voile - A translucent shade for all skin tones.
Lavender - A light lavender shade enriched with restorative purple gromwell extract. Neutralizes sallowness and brightens.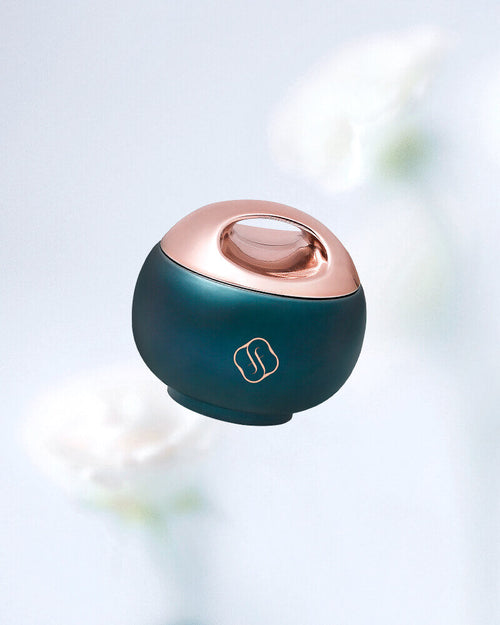 Deeply moisturizes, smoothes and protects lips against dryness.
Product Benefits
A thick layer before sleep can soften and smooth lips' texture. A thin layer under your lipstick can improve the look of dry lips and enhance color.

Light and Cooling
The lip gel mask is lightweight and easy to apply. It has a slightly cooling effect, which moisturizes your lips without greasiness.

Gentle Formula
The formula is enriched with extracts of radix sophorae and Solomon's seal to pamper your delicate lips and reduce dryness and roughness.

Case Design
The case takes the sleek and delicate design of a cape gooseberry, one of the ingredients in the recipe.

Spoon Included
The lip gel mask comes in with a custom-made mini spoon to open the lid or scoop out the gel.
Explore More at Our Blog:_How to Apply Lip Balm
Your Zero Residue Zen Moment
Remove. Refresh. Refine.
Formulated with 100% natural emulsifiers, lift away dirt, oil, and makeup with the oil that washes away without a trace and leaves your skin feeling silky smooth. Use alone to deeply cleanse the day away or as part of your double cleansing routine.

Stubborn on Makeup. Kind on Sensitive Skin.
Jojoba oil, plant-derived squalane, and olive oil effortlessly moisturize while removing stubborn waterproof makeup without any oily residue. A gentle formula for sensitive skin, this oil is 100% naturally derived plant oils and contains no petrochemicals, parabens, fragrances, or alcohol.

Bring on the Balance
Drawing on the Eastern philosophy of balance and inspired by ancient imperial face wash recipes, an enriching mix of Chinese ground orchid, Bai zhu, Chinese lovage, and other herb extracts work to maintain the perfect pH balance while soothing and hydrating the complexion.

Cleanse with Calm
11 non-comedogenic plant oils and 7 floral extracts including Michelia, Ylang-ylang, Chinese peony, and Moutan peony, revitalize skin for a spa-like cleansing experience.

Your Pocket-Sized Spa Session
Each travel-sized cleansing oil contains enough to remove a day's worth of even the heaviest makeup. Pop into your handbag, luggage, or pocket and have a mini spa session every time you're away.
Free international shipping on orders over  $40 USD. Click here to check all available shipping regions.
*Big gift sets may be limited to some regions. 
7-Day Return: Feel free to send your item back within 7 days of receiving the product.
Shipping Restriction: Malaysia, Philippines, Singapore, Thailand, Vietnam, Australia, Austria, Belgium, Bulgaria, Croatia, Czechia, Estonia, Finland, France, Germany, Greece, Hungary, Ireland, Italy, Japan, Latvia, Lithuania, Netherlands, New Zealand, Poland, Portugal, Romania, Slovakia, Slovenia, South Korea, Spain, United Kingdom, Israel, Kuwait, Qatar, Saudi Arabia, United Arab Emirates, United States ( Alaska, Guam, Hawaii, Puerto Rico, Armed Forces Regions are excluded)