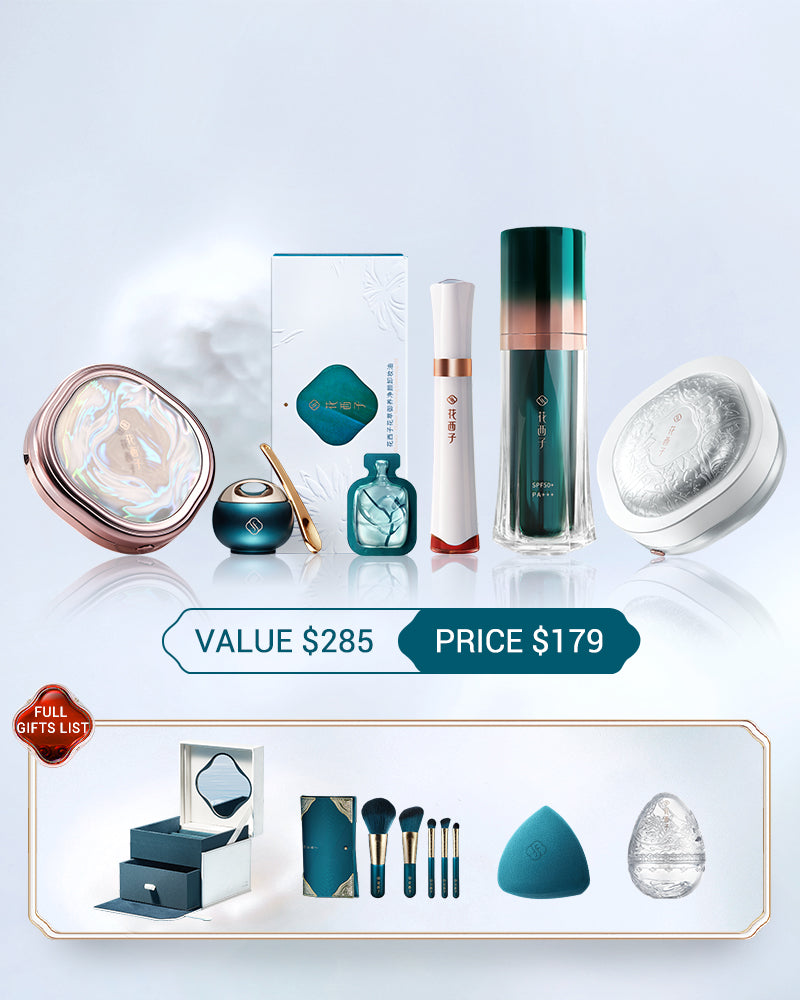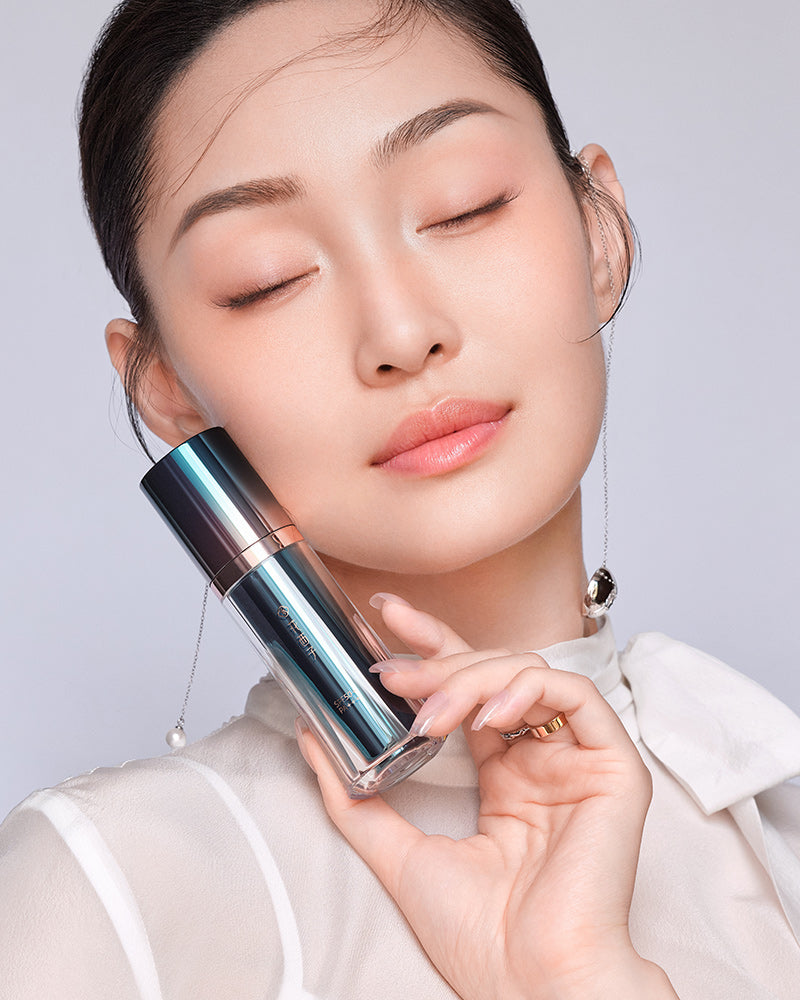 FLORASIS | HUAXIZI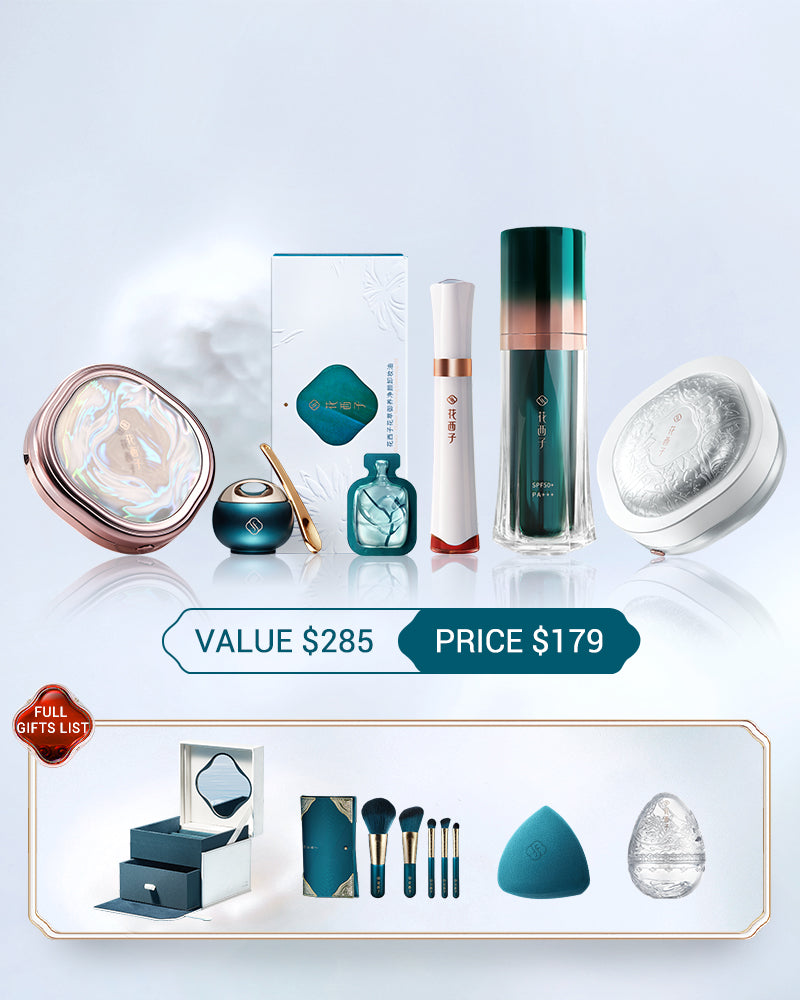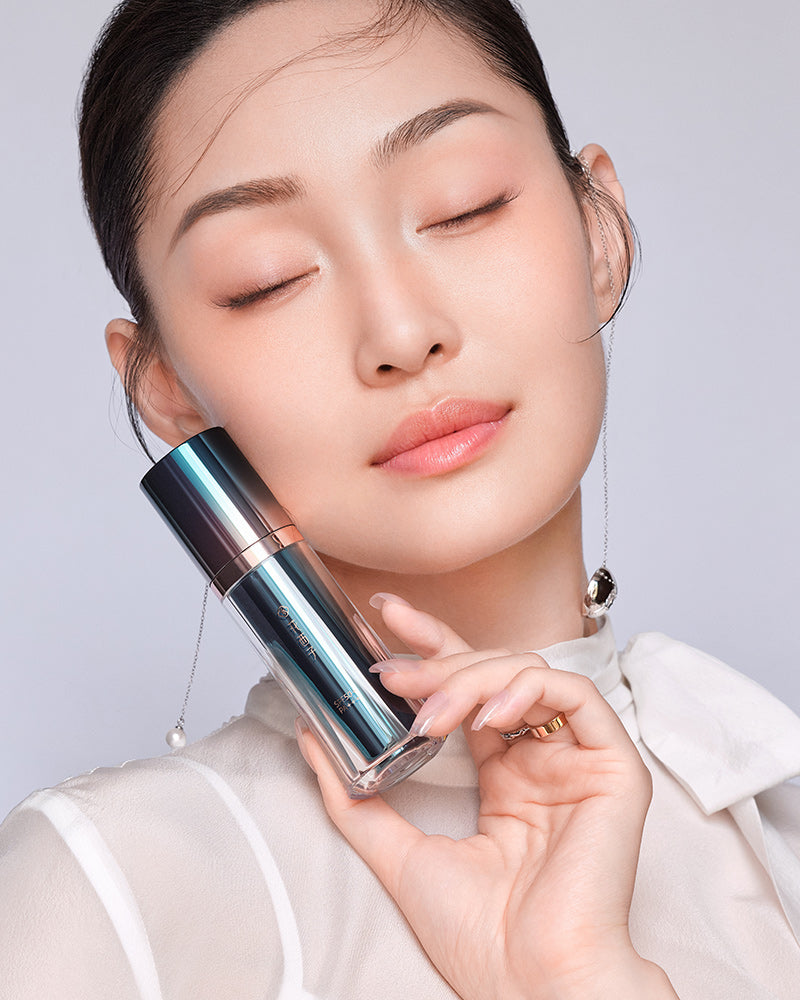 Protective Light Set
A Gift to Glow and Protect
Sale price
$179.00 USD
Regular price
(/)
Exclusive Bundle Gifts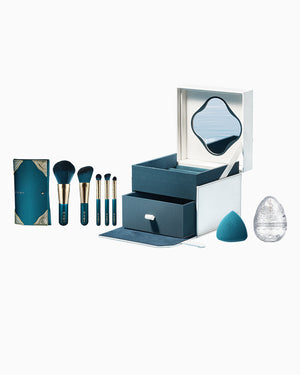 Protective Light Set Gift
$105.00 USD
Protective Light Set
Sale price
$179.00 USD
Regular price
Choose options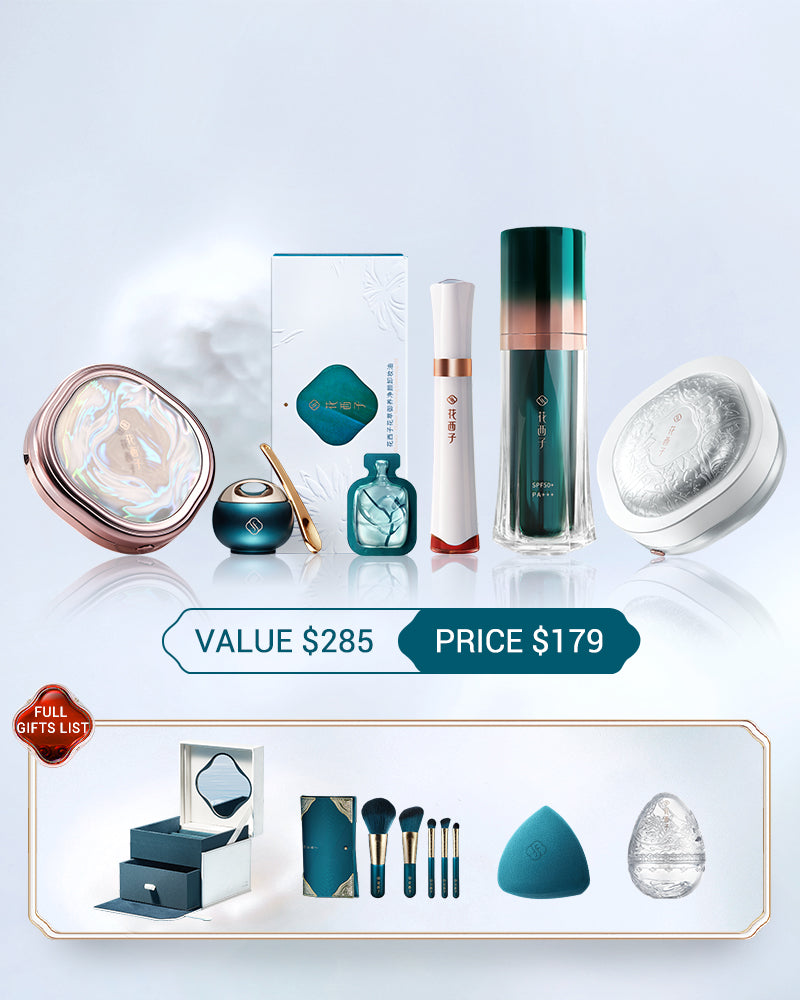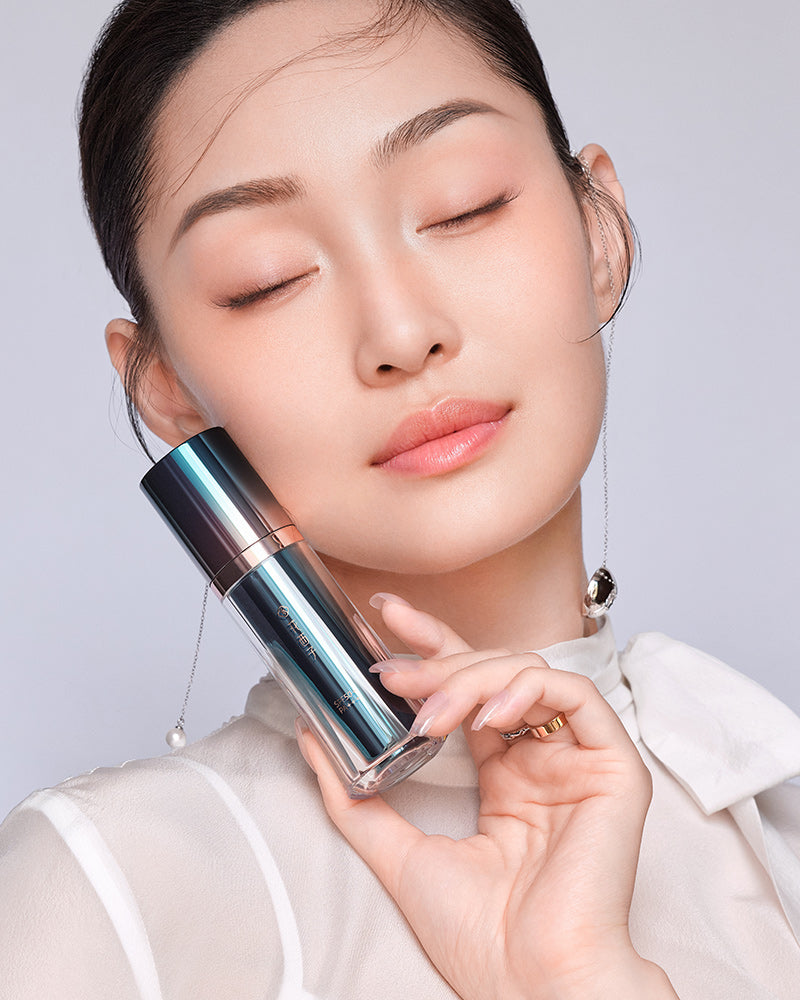 The ultimate kit to reveal your inner light and protect your complexion.
Amplify and protect your glow from prep to finish. A curated collection designed to protect and reflect your inner radiance, shield your complexion with our 3-in-1 SPF 50+ primer, shine with the power of the twin lotus and flawless jade, and seal in your look with a weightless, soft focus powder.

Set Includes:
Ginseng Care Lip Balm
Flawless Jade Shine Liquid Lipstick
Yurong Light Veil Smooth SPF 50 Primer
Flawless Jade Breathable Setting Powder
Twin-Lotus Relief Luminous Glow Highlighter
Botanical Hydra-Soothe Balancing Cleansing Oil 10 x 3ml 

Complimentary Gifts:
Eastern Jade Dressing Case
Soft Blooming 5-Piece Brush Set (Impression of Dai)
Dim Sum Blend-All Makeup Sponge (Zongzi shape)
Luan Makeup Sponge Case
Mirror-like shine finish liquid lipstick that gives a dewy glow while pampering your delicate lips.
High Shine Finish
Using an Innovative formula, enriched with nephrite powder grounded with zircon milling tech, all impurities are carefully removed, to have the translucency as clear water and reveal a natural glow

Long-Lasting, Transfer-Proof
The exclusive double-peak film-forming technique enables fast film creation, giving your lips a gorgeous shine and leaving a long-lasting, transfer-proof lip stain.

Ultra-Lightweight And Non-sticky
The comfortable, moisturizing formula combines 46% moisture and water-soluble powder processing technique for a more hydrating and lightweight lip stain that feels soft and comfortable on lips.

Lip-Nourishing
The formula is enriched with extracts from dendrobium nobile, sophora angustifolia, purple coneflower, lycium barbarum, and aloe vera, to nourish your lips.

*Shades of lipsticks may vary due to a number of factors including but not limited to monitor resolution settings, lighting & skin tone, etc.
Explore More at Our Blog:_The Smudge-Free Perfection of Your Shiny Dreams is here
A JADE-INFUSED POWDER FOR 24 HOURS OF SHINE-FREE HOLD
The Golden Ratio
Our golden particle ratio for the ultimate setting powder: one part oil-absorbing, nine parts translucent and light diffusing. Finely milled for a sensorial second-skin feel, blur pores and smooth your complexion with each application.

Non-Comedogenic and Skin Loving
With extracts of moisturizing white waterlily and raspberry and blackcurrant leaves for sebum control, this talc-free powder stays gentle on sensitive skin and supports skin health over time.

Silky Smooth and Jade Fine
Infused with breathable silk protein powder and shine-controlling jade nephrite powder, each pan is baked at a low temperature for 24 hours. When applied, it glides over skin with minimal fallout for an almost undetectable soft matte finish.

Sweat and Waterproof
A specialized X-COAT technology process coats each particle for improved staying power, moisture retention, and transfer resistance. A high-performance powder for every season, your look stays locked in rain or shine.

A Powder For Every Need
Snow - A pale yellow powder ideal for fair skin. Enhanced with subtle shimmer for gentle radiance.
Mist - A translucent powder that flatters all complexions with a flawless, even finish.
Lavender - The invisible color corrector to brighten sallow tones and add subtle radiance.
Rosy - A light-medium powder with a neutral rosy undertone to neutralize green tones.
Amber - A medium powder with a warm sandy undertone.
Ocher - A medium-deep powder with a warm blush undertone.

Secure Anti-Spill Design
Simply twist the lid counterclockwise before pressing your puff into the flexible mesh to evenly release the powder for precise application.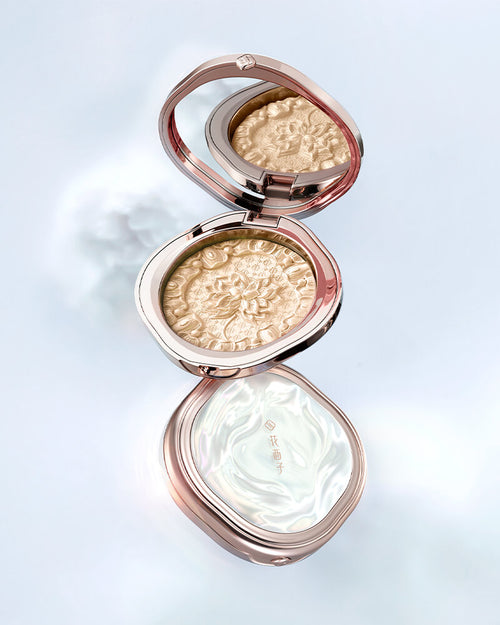 A symphony of natural radiance and brilliant luminosity
Liquid-To-Baked Technology
Our innovative liquid-to-baked formula harmonizes the natural glow of liquid with the brilliant luminosity of powder. A translucent, lightweight highlighter that blends like liquid, performs like powder, and adds ethereal radiance to all complexions.

Poreless Perfection
Achieve lit-from-within radiance with a poreless, soft-focus finish. Thanks to the micron-sized mica and polymer microspheres, this light-diffusing highlighter glides over skin texture and illuminates your best features in a gentle halo.

Long-Wear Wonder
Enter the wonder that is Chondrus Crispus (Irish moss). Armed with a plethora of anti-aging and skin-loving benefits, this exceptional extract guarantees our minimal fallout formula. On the skin, it creates a flexible, lattice-like film that adheres beautifully and ensures brilliant longevity.

A 1 in 100,000 Beauty
A symbol of luck, goodness, beauty, and harmonious love between couples, the Bingdi lotus' splendor cannot be replicated by science. A 1 in 100,00 beauty that is as rare as it is captivating, this highlighter was created in collaboration with master engravers to honor this incredible natural phenomenon.

Outstanding Extracts
Admired since ancient times for their brightening and oil-cleansing properties, powerful extracts of peach and apricot blossom form the base of this skin-loving highlighter. Essences of lotus flower, peony blossom, and sunflower oil boost with their anti-inflammatory and natural skin radiance benefits.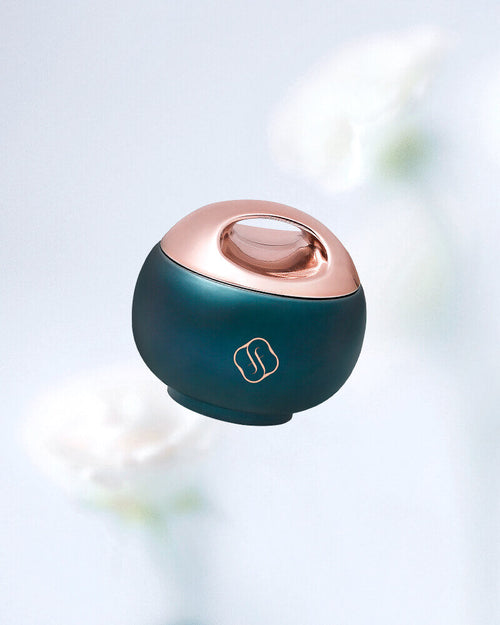 Deeply moisturizes, smoothes and protects lips against dryness.
Product Benefits
A thick layer before sleep can soften and smooth lips' texture. A thin layer under your lipstick can improve the look of dry lips and enhance color.

Light and Cooling
The lip gel mask is lightweight and easy to apply. It has a slightly cooling effect, which moisturizes your lips without greasiness.

Gentle Formula
The formula is enriched with extracts of radix sophorae and Solomon's seal to pamper your delicate lips and reduce dryness and roughness.

Case Design
The case takes the sleek and delicate design of a cape gooseberry, one of the ingredients in the recipe.

Spoon Included
The lip gel mask comes in with a custom-made mini spoon to open the lid or scoop out the gel.
Explore More at Our Blog:_How to Apply Lip Balm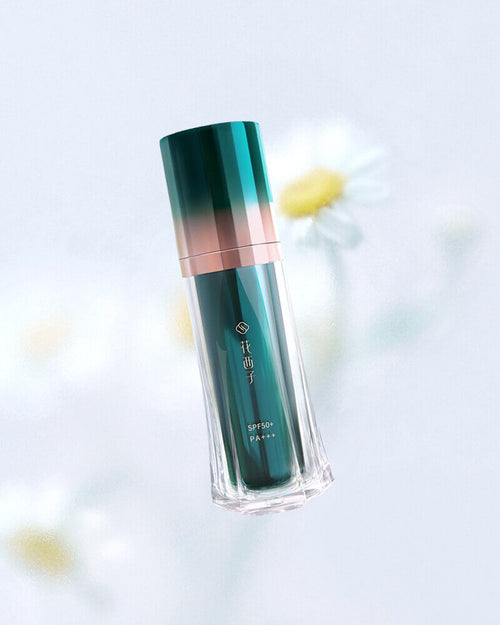 A BRIGHTENING VEIL OF PROTECTION, HYDRATION, AND NOURISHMENT
Protect and Prevent with SPF 50+/PA+++
Formulated with chemical and physical actives, our broad-spectrum alcohol-free formula offers excellent protection against harmful rays. An effective shield against reddening, burning, cell damage, and premature aging, your skin is against both UVA (PA+++) and UVB (SPF) radiation.

Brighten and Prime
The creamy, non-greasy formula contains over 20% moisturizing ingredients for optimal hydration. Supple with a non-sticky finish, your complexion is evened, brightened, and ready for makeup.

Absorbs Oil for Zero Grease
Porous oil-absorbing particles absorb excess sebum, leaving you moisturized but never greasy. Lightweight and fast absorbing, the primer blends seamlessly for a second-skin finish.

Enriched With Natural Extracts
Extracts of chasteberry, chamomile, common purslane, Indian Pennywort, mulberry flower, and safflower offer moisturizing, soothing, anti-inflammatory, antibacterial, and antioxidant-rich benefits.
Your Zero Residue Zen Moment
Remove. Refresh. Refine.
Formulated with 100% natural emulsifiers, lift away dirt, oil, and makeup with the oil that washes away without a trace and leaves your skin feeling silky smooth. Use alone to deeply cleanse the day away or as part of your double cleansing routine.

Stubborn on Makeup. Kind on Sensitive Skin.
Jojoba oil, plant-derived squalane, and olive oil effortlessly moisturize while removing stubborn waterproof makeup without any oily residue. A gentle formula for sensitive skin, this oil is 100% naturally derived plant oils and contains no petrochemicals, parabens, fragrances, or alcohol.

Bring on the Balance
Drawing on the Eastern philosophy of balance and inspired by ancient imperial face wash recipes, an enriching mix of Chinese ground orchid, Bai zhu, Chinese lovage, and other herb extracts work to maintain the perfect pH balance while soothing and hydrating the complexion.

Cleanse with Calm
11 non-comedogenic plant oils and 7 floral extracts including Michelia, Ylang-ylang, Chinese peony, and Moutan peony, revitalize skin for a spa-like cleansing experience.

Your Pocket-Sized Spa Session
Each travel-sized cleansing oil contains enough to remove a day's worth of even the heaviest makeup. Pop into your handbag, luggage, or pocket and have a mini spa session every time you're away.
Free international shipping on orders over  $40 USD. Click here to check all available shipping regions.
*Big gift sets may be limited to some regions. 
7-Day Return: Feel free to send your item back within 7 days of receiving the product.
Shipping Restriction: Malaysia, Philippines, Singapore, Thailand, Vietnam, Australia, Austria, Belgium, Bulgaria, Croatia, Czechia, Estonia, Finland, France, Germany, Greece, Hungary, Ireland, Italy, Japan, Latvia, Lithuania, Netherlands, New Zealand, Poland, Portugal, Romania, Slovakia, Slovenia, South Korea, Spain, United Kingdom, Israel, Kuwait, Qatar, Saudi Arabia, United Arab Emirates, United States ( Alaska, Guam, Hawaii, Puerto Rico, Armed Forces Regions are excluded)