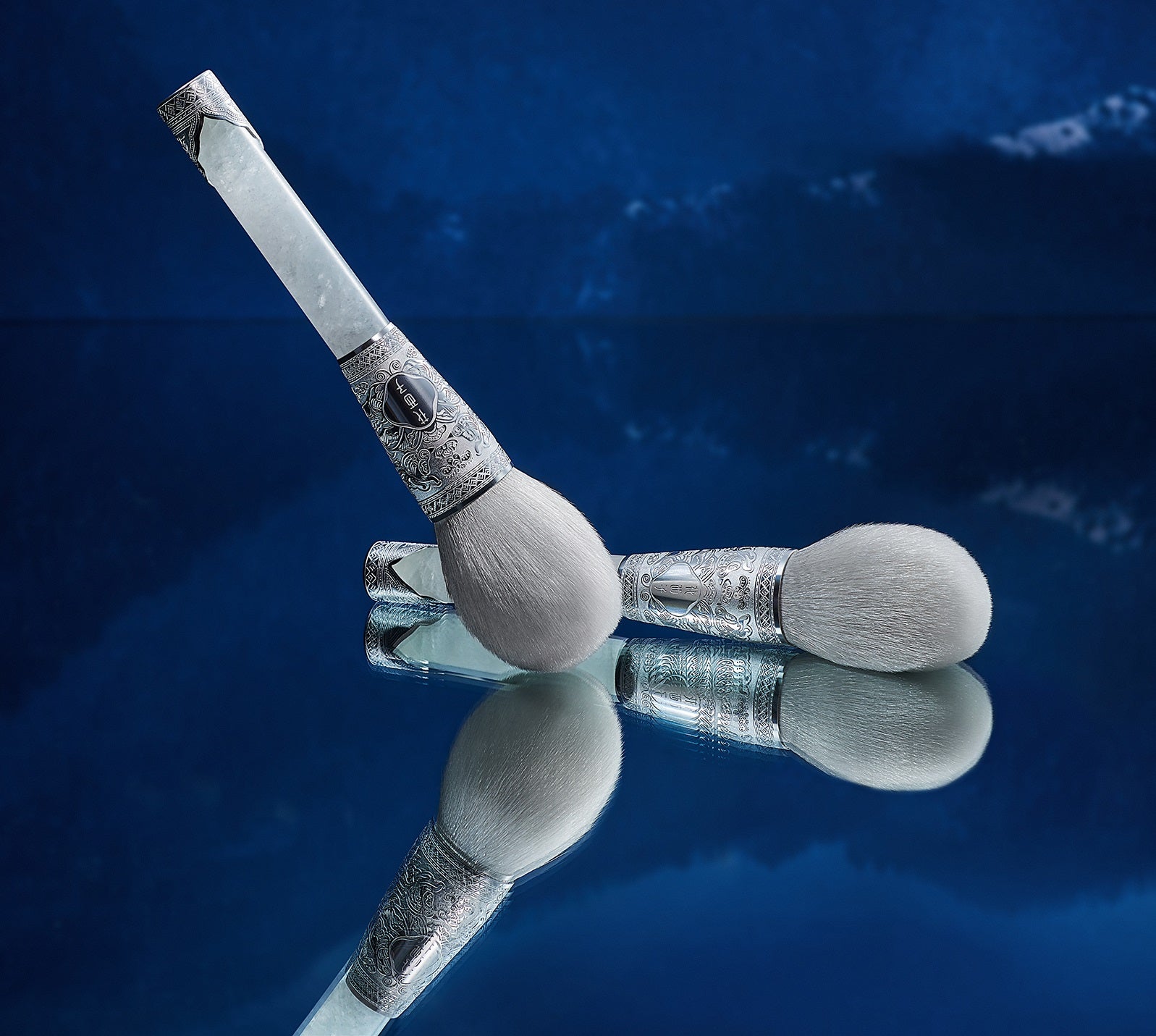 The Secret to Great Makeup: Brushes, Sponges, and Essential Tools
The Best Beauty Investment You Can Make
With the right love and care, high-quality makeup brushes can last a lifetime, and even sponges can last for months after constant use. Like an artist carefully selecting their favorite medium, the right tools are a key part of your makeup routine and should be a pleasure to use.
Hair, shape, density, size, and texture matter enormously in makeup application. Beyond deepening your makeup expertise and helping you hone technique, the right tools can mean the difference between everyday comfort and constant touchups.
Remember: Makeup expires. Brushes don't.
Brushes
Even for true makeup lovers and professionals, a modest, versatile collection is all you need for your everyday makeup. Excellent quality makeup brushes simplify routine, last longer, and give you time to play and experiment as you master their shape and texture.
The Soft Blooming Feather Touch Eye Brush Set
A 5-piece eye set designed for every step of your shadow look, from gentle swathes of color to minute detail work. Premium metal handles give excellent control and ultra-soft synthetic brush heads pick up product with ease. The set includes: blending brush, all over eye brush, flat shader brush, angled liner brush, and a flat pencil brush.
The Porcelain High Coverage Foundation Brush
A luxurious foundation brush with a white porcelain handle. Dense ultra-soft domed bristles slanted at a precise five-degree angle ensure precise application around contours and delicate crevices. The elegant lotus porcelain handle offers extra grip during application.
The Soft Blooming Double-Ended Blush Brush
A versatile petite blush brush for every texture and finish. Flawlessly blend cream and liquid blushes using the wet/dry sponge, or sweep a healthy flush of color with the soft-bristled brush. Durable and sleek, the aluminium body is made for long-term use and zero shedding.
The Impression of Miao Crystal Makeup Brush
An exquisite crystal handle brush with silk protein-infused bristles. Silver, a precious symbol to the Miao people, gilds this brush with delicate butterfly patterns. A one-of-a-kind piece to add to your collection or a precious gift.
Sponges
A highly versatile tool in your makeup kit, sponges are fantastic for liquid products, immaculate skin finishes, and blurring out harsh lines. Beginner friendly and soft, they're excellent on dry and sensitive skin.
The Perfect Blending Makeup Sponge Set
Densely packed pores absorb minimal product and bounce effortlessly on skin. Designed to apply, set, and contour, you can complete your entire base makeup (including blemish cover with the pointed end) with minimal effort.
The Dim Sum Blend-All Makeup Sponge
Inspired by Chinese Dim Sum, each unique shape caters to every contour, curve, and crevice. Dense and durable, this collection seamlessly blends foundation into the skin with an airbrushed finish.
Powder Puffs
The tool to smooth and mattify without disturbing your final look. For freshly blended creams and liquids, a gentle pat of powder achieves a poreless, smoother finish around delicate areas without tugging or dragging the skin.
Soft Blooming Velour Powder Puff
A densely flocked puff inspired by Chinese Kingfisher art and made for our finely milled weightless powders. Double-sided and velvety soft, our signature dark cyan design makes controlling powder application and saving product simple.