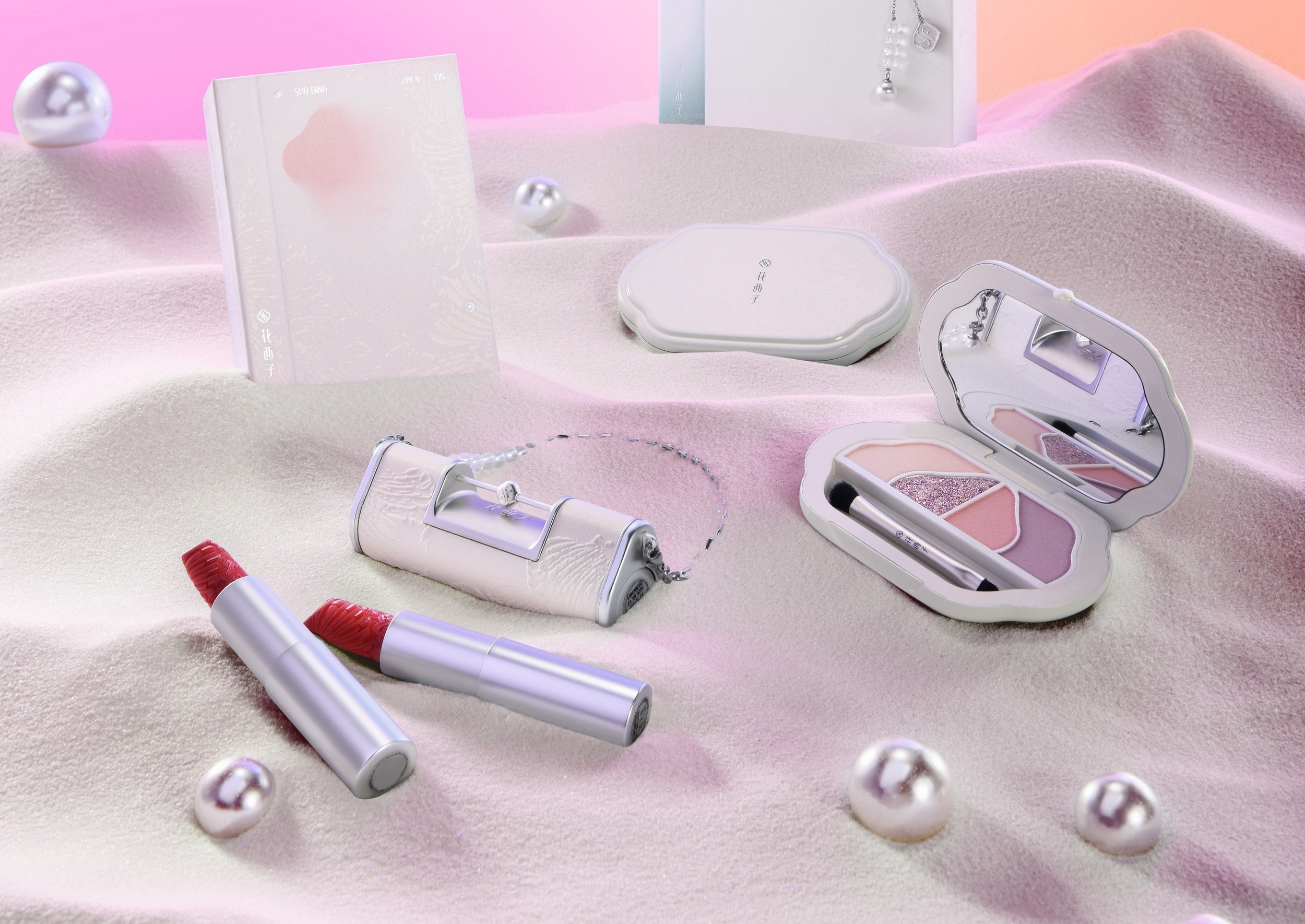 Together, the World is Our Oyster, But… You're The Pearl Of My Eye
A new Florasis exclusive collection is here, and it's a pearl of wisdom! Our You're The Pearl Of My Eye line includes entirely new products to keep you looking as lovely as you do, and to take your resplendence to unseen romantic heights.
Their significance of pearls has never been more favorably esteemed or respected than it is in Chinese culture: historic records show pearls being worn and admired by Chinese people starting from at least 2000 years ago. Ever since, pearls have been regarded as a primary symbol of purity, elegance, and beauty. In China, golden pearls are also believed to bring luck and prosperity, with Chinese artworks often showing dragons keeping golden pearls in their open mouths.
A pearl's shape naturally and beautifully resembles that of the Moon, making it the most feminine of gems and reinforcing its popular perception as a symbol of beauty and purity for women everywhere. The mineralogist George Kunz once wrote, "The diamond is to the pearl as the sun is to the moon. The diamond, like a knight of old — brilliant and resistant, is the emblem of fearlessness and invincibility; the pearl, like a lady of old — pure and fair to look upon, is the emblem of modesty and purity." In other words: diamonds are a girl's best friend, but pearls are her most precious sign of purity and virtue!
In keeping with Chinese artistry and tradition, Florasis presents this romantic and stylish collection in collaboration with celebrated designer and Forbes 30 Under 30 recipient Susan Fang. The pearl collection is decorated with Fang's iconic artistic elements of beads and knits: she has worked with marbles and biodegradable thermoplastic polyurethane, and produced resin hats as well as glass jewelry. A graduate of the prestigious Central Saint Martins, in 2019 China-born Fang was a finalist of the LVMH Prize. Her airy, multi-dimensional, and innovative fashion is the perfect fit for Florasis, and our refined aesthetics and artistic originality match her elegant and creative ideals.
​Blooming Rouge Love Lock Lipstick (Pearl Edition)
Having inherited the traditional eastern expert micro-relief craftsmanship, we have reinvented it with advanced technology and taken it to new heights. The engraving on our gorgeous new lipstick is chiseled with exquisite 3D patterns on the recurring theme of our beautiful customers as the pearl in the eyes of their lover. The white pearl case is also engraved with refined and delicate 3D patterns of mother of pearl, and it features our signature Love Lock mark on the side, inspiring the image of true love opening the key to your heart.
The lipstick is developed for ultimate and lasting comfort, with the smoothest of applications either directly on the lips or with the use of a lip brush. Its creaminess transfers just beautifully, with a weightless and supple finish and no hint of dryness after just one application.
Its color is vivid and intense, intended for maximum coverage while remaining polished and even. The coating is soft and velvety, with an alluringly matte finish and the most perfect softness lasting all day long on your hydrated lips.
Our innovative formula is enriched with extracts of cotton rose, summer snowflake flower, and Madonna lily, all natural nourishing solutions from ancient Chinese medicine aiming to plump your lips and reduce the appearance of tight lines and lip wrinkles.
The Blooming Rouge Love Lock Lipstick features two different iconic shades: M520 I Love You for a warm, bright and striking red color, and M521 Yes I Do for a mid-tone rose pink shade. Both can be applied multiple times over without becoming cakey or wrinkled, for a delicate and thin application or a thicker second or third coating, remaining supple and nourished all the whole.
Eastern Romance Eyeshadow Palette (Pearl Edition)
The Eastern Romance Eyeshadow Palette comprises two different variations on the same muted and soft colors used as inspiration for the most wonderful dainty eye makeup looks. They contain three delicate textures in one compact and portable palette, with a matte standard and useful shimmery and glimmery alternatives for every need.
The 520 Bride in Sunrise variation includes a satin tone, peachy beige Prelude; a matte tone, coral pink Sunrise; a shimmering and dazzling white Shine; and a glimmer of sparkle with copper brown Hope. On the other hand, 521 Mermaid in Moonlight has a shimmer in dazzling violet, Moonlight, and three different matte variations: a light pink matte with the beautiful Lullaby; a cool pink matte with the more pronounced Mist; and finally the vivid matte violet, Illusion.
While the matte hues are naturally soft and silky both to the touch and the handling, the shimmery and glittery shades are extremely elegant and allow for easy, smooth application without the fear of messiness or that of ruining the rest of the look with falling glitter. They're all made with ultra-fine soft powder that's vibrant and pigmented, while remaining as soft as velvet.
Inspired by the wisdom of traditional Chinese medicine, the eyeshadow palette is formulated with natural peony and calendula extracts for the ultimate nourishment of the skin along the eyelids and creases, and as to avoid wrinkles and cakeyness. This advanced formula is also enriched with pearl powder, in keeping with the spirit of romance and elegance that radiates through the whole collection. The pink, coral, rose, and violet shades were chosen in accordance with oriental elegance and the inspiration of sunrise and moonlight scenery.
The purchase of every Eastern Romance Eyeshadow Palette and every Blooming Rouge Love Lock Lipstick comes with an exclusive bracelet to chicly adorn your wrist, a pearl sticker and a wish card. :)