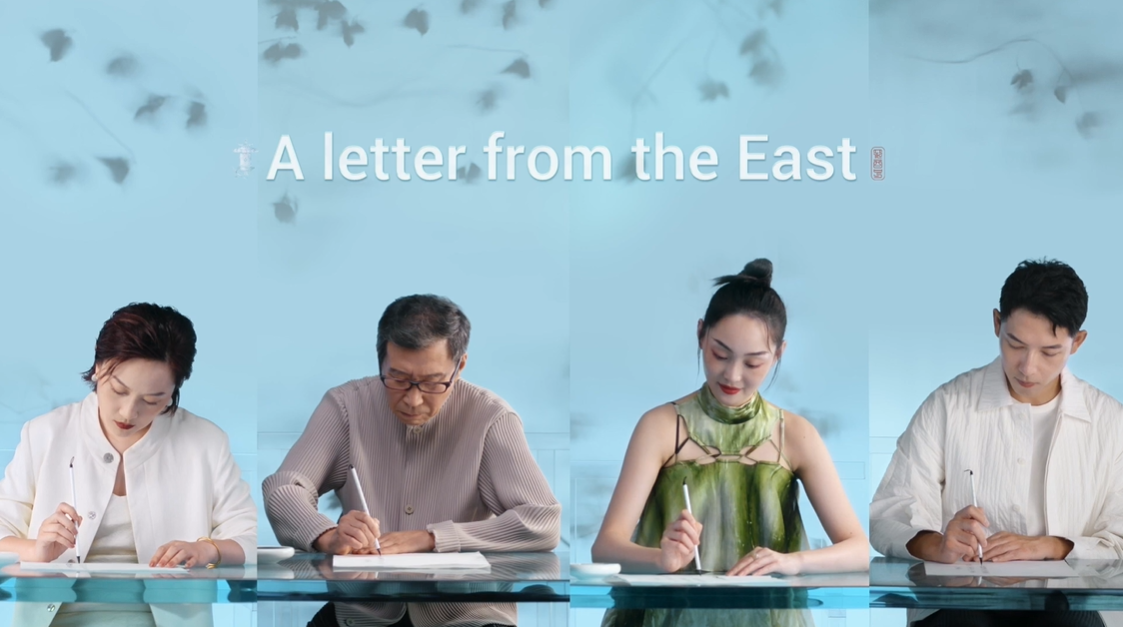 A Letter from the East
This is a long letter about the story of the East, recording our five-year journey. With joys and tears aiming at our unswerving mission and aspirations. We are willing to share with you the beauty, romance, and impression from the East.
The stories hidden in Chinese makeup are more beautiful than makeup itself
As a model of Florasis, I take every makeup presentation seriously because it is not only a demonstration of beauty but also a promotion of our eastern culture. You must be well-prepared to interpret it completely. During my five years of exploring Chinese beauty with Florasis. I have witnessed its persistence and fast growth. The four keywords of Chinese makeup philosophy promoted by the brand technique color implication and spirit have given me a new horizon of the Chinese makeup art. For example, the Looks of 24 Solar Terms are not just interpretations of colors but an experiment and expression of the nature in the eastern culture. The Beginning of Spring has the vitality to revive everything, while the Lesser Cold is describing an absolute independence in the look of cool beauty. Every look tells a story of a rich culture, I'm also obsessed with promoting Chinese beauty with my own interpretation.
-Zhang Xujia, Brand Model of Florasis
Creating beauty based on the language of culture with innovation and craftsmanship
You might be confused at the first glance of Florasis "Why the color of dark cyan is used for makeup?" Actually, dark cyan has been part of the eastern makeup long before in Chinese history, with a large range of tones for eyebrow powder to rouge powder being the signature of Chinese beauty for generations. More than a color, it also has a deeper cultural and spiritual implications which are also the center of Florasis' brand creativity, creating beauty based on the language of culture with innovation and craftsmanship. For example, the idea of "Blooming Rouge Long-Lasting Liquid Lipstick" comes from traditional texture of Chinese colors which are classic themselves that shines in the modern days. 
-Zi Qi, Creative Director of Florasis
Florasis ​​Floral Engraving Phoenix Makeup Palette
Florasis Blooming Rouge Long-Lasting Liquid Lipstick​​
Empowering fashion with tradition It's a hard but right thing
After more than ten years in fashion I have developed a strong attachment to traditional eastern beauty I have been looking for the answer to a more modern interpretation of eastern beauty now I got it I see a creative interpretation to it combining eastern elements with cosmetics. By inheriting eastern beauty it gives us the space to present a contract with modern fashion "Flawless Jade" series is the first masterpiece combining traditional jade culture and modern fashion while the CMF system is a fundamental innovation. Aesthetics is always about the research and design of colors materials and processes. As the first brand with CMF system in the domestic makeup industry, Florasis is capable to renew eastern beauty empowering makeup with culture and empowering fashion with tradition.
-Sun Saisai, Brand Consultant of Florasis Chief Executive Officer of Marie Claire China
In five years our exploration in cosmetics aesthetic and R&D blossomed and bore fruits. May more success in the next five years eastern flowers blooming in every corner of the world Tell the eastern story step by step word by word Let the eastern images be handed down from generation to generation.
"Slow" is a kind of savings for reaching a farther place
Chinese cosmetics with a history of thousands years has confirmed the function of flowers in makeup. That's the common concept between Florasis and me. Because we both sought a way to fully use flowers in makeup renew the traditional formula in modern cosmetics Science is the core to reach the goal while not only Florasis but the whole industry has a long way to go Floral skincare enabled by technology is the key the biggest challenge as well Culture is sophisticated and profound we cannot be rushed but to take slow, yet firm steps forward Our eastern beauty R&D system is the root of our strength. By integrating historical wisdom in nutrition and modern cosmetics technology the skincare ingredients will play a greater role. The innovative formula with Jade Alchemy in Flawless Jade Breathable Setting Powder is a great example of innovation empowerment controlling oil for a breathable texture while also gently caring the oily and sensitive skin The milestones allow us to firmly advance on the long journey of providing the best products to the world As long as the direction is right it's fine to move slowly because we believe that sooner or later we will make it.
-Li Huiliang, Chief Scientist of Florasis