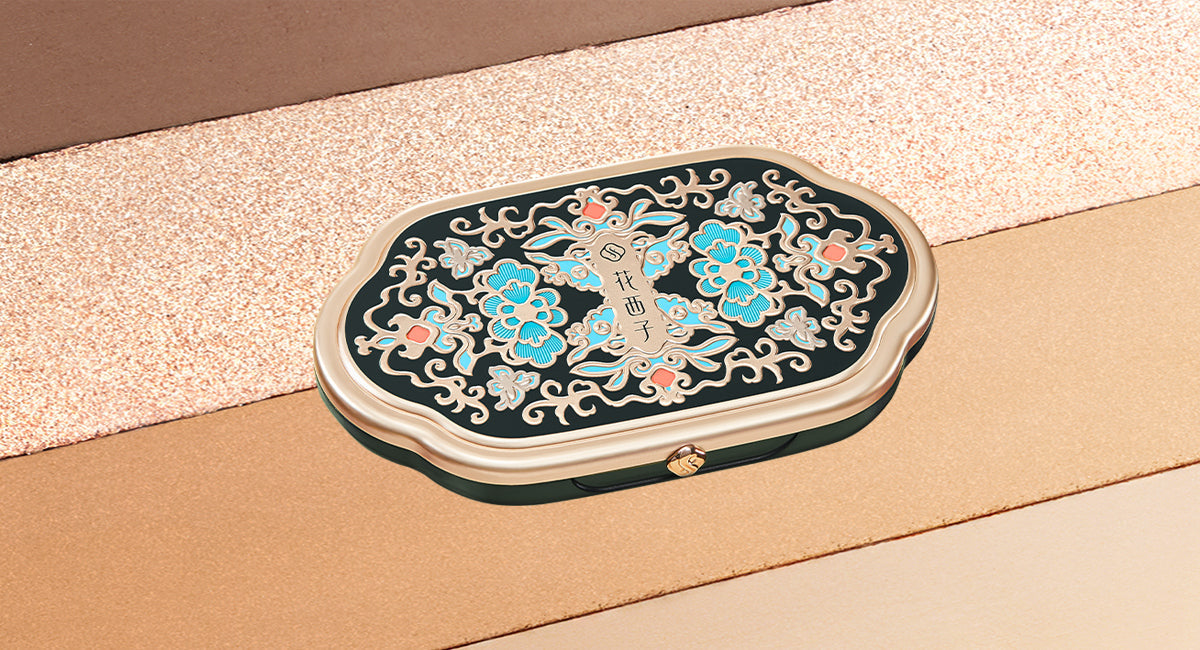 A New Travel-Friendly Palette for On-The-Go Looks
A travel-friendly palette is an absolute must when traveling near or far, so you can touch up your look on the go and always look impeccable. Enter Florasis' Eastern Romance Eyeshadow Palette, Cloisonné Edition, to keep you looking your best at all times! 
Eastern Romance Eyeshadow Palette (Cloisonné Edition)​​
The palette derives its name from a long-standing decoration technique using golden strips or gemstones to intersperse with colorful materials and ancient precious metals. It is renowned for its use in the manufacturing of jewelry and weapons, as well as similar small decorative objects with beautiful images on them. It originated during Byzantine times, spreading all around Europe and then to China, where it remains popular to this day. In keeping with Florasis' focus on artistic and elaborate craftsmanship, the case for this palette doesn't disappoint: it is a beautiful and refined patchwork of colors and gold accents on an elegant black background, decorated according to cloissonné tradition and with traditional Eastern elegance. The delicate design incorporates the signature element you've come to associate with Florasis, the porch window, intertwined with a flower pattern to imbue the whole creation with auspicious and encouraging meaning. So you can always feel proud to showcase your Florasis products in your home or in your go-to bag.
The Eastern Romance palette is a slim and compact design, with four shades of eyeshadow at your fingertips for easy and totally portable convenience. Together with the palette, you'll receive a double-ended eyeshadow brush for highly defined and refined makeup looks when you're in a rush, or traveling, or simply outside of the house for a prolonged period of time. Utilize the larger end of the brush for priming and blending on your crease, and the smaller end to attend to details and fine lines.
Eastern Romance Eyeshadow Palette (Cloisonné Edition)​​
Inside, the palette presents four gentle, gradient and pigmented colors in different finishes, with shaded ranging from the more natural to contour-ready hues that will give you a soft and refined look no matter where you are. The colors are perfect to be used on a daily basis, for classic and elegant looks: yellows, golds, browns, and pinks, all ready for you to blend and mix to your perfect preference.
The powder used by Florasis for this palette is soft, highly pigmented and easy to blend, providing a creamy and seamless finish without the dreaded "cakey" effect. It's a creamy powder with high extension capacity, strong adhesion, all without any fallout or dispersion.

This is made possible by innovative, state-of-the art "Liquid Powder" technique implemented by our labs, which infuses the colors with proprietary emulsions. Once it's ready, the powder is baked at high temperatures so it can more easily sink into the skin and stay on all day without resulting in any fallout. It is a talc free formula, completely gentle and highly pampering, so that the delicate skin around your eyes can remain healthy and plump.
The formula is also highly nourishing, as it's been enriched with floral essences such as peony and calendula as well as pearl powder. We were inspired by ancient recipes in the Compendium of Materia Medica, the ultimate encyclopedia of traditional Chinese medicine, to create our most pampering and lightening formula to date, for a powder that lights up your eye with smooth and fine particles and gives your skin a gentle break from the stresses of daily life.
Floral E​​ssences
The palette comes with glimmery, glittery, matte and metallic colors to choose from, for all your natural and extravagant needs: from matte Dreamy Swan to glittery Shimmering Sand, and so many more: discover the whole range of Florasis eyeshadows with this new and exclusive product release!