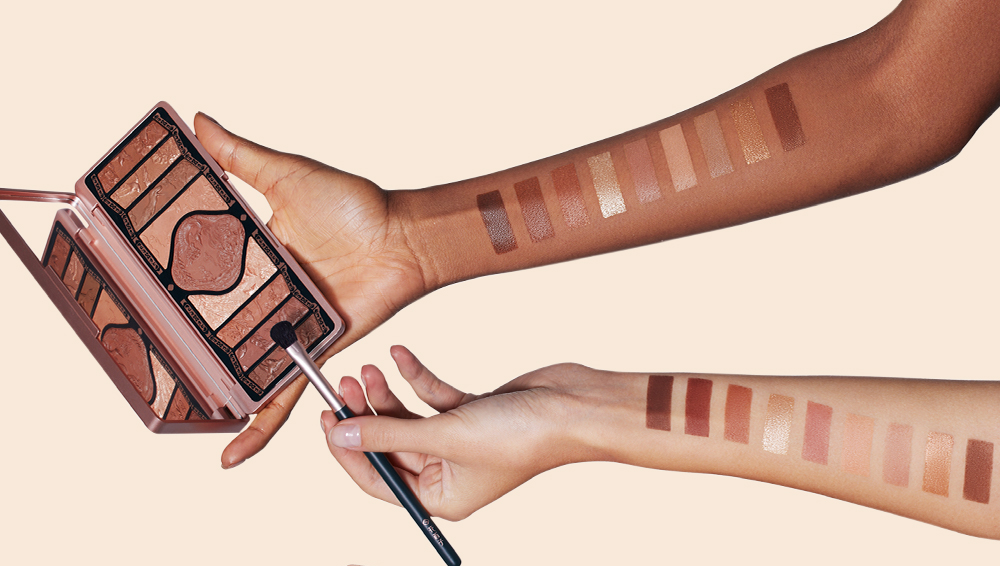 A New and Updated, Limited-Time Offer on a Classic Favorite Palette
It's almost time for the holidays, which is always the perfect time for gifts. So here's our gift to you: an updated version of our beloved and best-selling Floral Engraving Phoenix Makeup Palette, with artful engravings and rich colors for all the most versatile looks of your dreams.
We took inspiration for this palette from the portable folding screen, a Chinese invention deeply rooted in Eastern art and culture which garnered incredible attention in Europe in the 17th century not only for its usability and convenience, but also such a visual decoration with exquisite and luxurious carved patterns. A true work of Eastern engraving craftsmanship art, the delicately engraved patterns on our updated Floral Engraving palette are scenes from the Chinese myth "A Hundred Birds Paying Homage to the Phoenix," designed with revolutionary 3D technology to mirror the innovative formulation of the product itself.

We have decided to revisit one of our all time favorite products to renew our commitment to providing both the most exquisite items we can, and paying homage to the tradition that we take inspiration from. The ultra fine powder is silky soft, talc-free, and has an incredibly delicate texture, because only such a micron-sized powder could be used for delicate engravings the way we dreamed of them. With 3D network structure, the eyeshadow powder is easy to blend and lends itself to a variety of versatile looks without any fall out, any smudges, and no patches anywhere in sight. It is a highly pigmented formula, with water-soluble components that react well to a wet brush or a dry one.

For its exclusive formulation, we relied on classic works such as TCM, The Compendium of Material Medica, and the natural extracts it inspires to use as nourishing and well-versed ingredients that are good for your skin, and good for the planet. These include ​​pearl powder, extracts of calendula, and extracts of peony, which all contribute to making the powder glide smoothly on the skin and feel as silky as possible, with the use of extra natural and clean ingredients.
For maximum multifunctionality, use a dry brush for eyeshadow and blush application, and a wet one for a defined eyeliner or shiny highlighter for even more saturated hues and a more striking contrast in your look. As it is such a resourceful and multipurpose offering, you will truly need only one product to achieve four different results: as an eyeshadow, blush, highlighter, or eyeliner, this palette is an all-in-one product and will be the one thing you can't live without in no time. Finish your look by eliminating any pores in sight with the Flawless Jade Breathable Setting Powder, or create a flawless base with the Floral Essences Balancing Fitting Foundation for a high-power, bold sculpting and long-lasting results.

We've also added a few different shades, to give you more inspiration and more joy to choose from the colors of your dreams! From the Gold Brown edition, discover fashionable and diverse hues with a whole lot of shimmer and even a little glitter, to add a touch of drama, or a perfect holiday feeling. Explore shades such as the matte dark brown Swan, the glittery bright red Phoenix, or the shimmery dark cyan Peacock. And in the Retro Brown edition, you'll still find some glitter and shimmer, but also a few mattes and metallics. Use shades like Reed Warbler Plume, a shimmery gray pink, or Golden Weaver Plume, a glittery champagne color, for delicate monochromatic looks and the most golden, sun-kissed skin of your life. Because autumn is the perfect time for apricot and rosy shades, to go bare and stick to a natural look, but we also know you might need inspiration for more ostentatious and fashionable holiday looks, and we've got you covered on both sides. No matter the occasion, this palette will bring out a new side of you and your creativity every time ––because you can truly use it in so many different ways, it's fun to discover new ideas with every application!
Each palette purchase comes with gifts such as an eyeshadow brush and two pieces of makeup remover wipes. It's a limited-time only offer, so hurry and make sure to grab a Floral Engraving Phoenix Palette before time runs out!